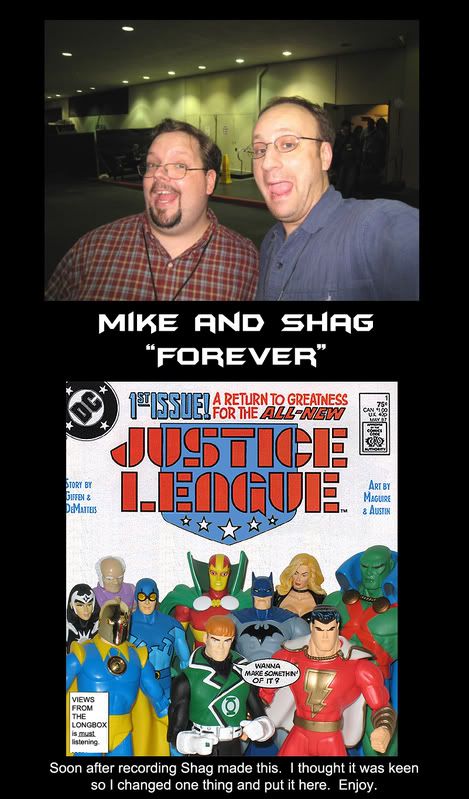 This week on Views From The Longbox...
...all right stop, collaborate and listen, Shag's back with a brand new edition.
...another edition of
Out of Context Theater
.
...Mike and Shag talk about some of the better comic book series from the mid to late eighties.
...all that and the "all-important" Podcast Pick of the Week.
As usual this episode is not entirely work safe. It's not that Mike and Shag are potty mouths, but they are adults and sometimes the f-bombs and such will fly, so put some earphones on if you're at work. Surprisingly the audio quality this time out was pretty good, so hopefully it will make for a better listening experience, at least in terms of how it sounds if not content.
Relevant Links
Hey, Views Is Now A Weekly Column At Comixtreme!
- Check this site every Friday for the newest installment of the Views column and check it out every day for other neat things to read about and enjoy.
The Official Views Blog
- Still under construction, but this is the home base of Views and will eventually have content in addition to the show.
The Unique Geek.
- This is a group I belong to and even take part in their bi-weekly podcast. They also have a listserv where all are welcome and you can get there by clicking
HERE.
.
The Official Views MySpace Page
- Because all of the kids are doing it these days. Like the blog it is still a work in progress, but I'm getting there.
The RSS Feed For The Show
- If you are into that type of thing.
Media Gauntlet
- The site nice enough to host this show.
Also you can find the show at
Podcast Alley
. Go there and leave some feedback on the show. It will make me more powerful than you could possibly imagine.
Views From The Longbox Logo is by Blake Wilkie